JAMB Direct Entry 2019/2020 Registration Cost And Date
Jamb Direct Entry 2019/2020 Exam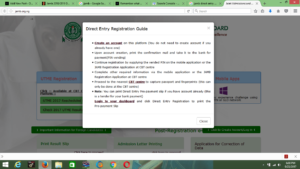 JAMB Direct Entry 2019/2020 registration
Frequently asked questions (FAQS) on JAMB Direct Entry 2019/2020 Registration, Cost, Screening Date and other important points is what shall treated here today. Before we begin, let me quickly remind you that 2018 JAMB Direct Entry is Over and JAMB Direct Entry 2019/2020 registration is the latest talk in town.
If there is anything to go by, You and I cannot categorically predict when the sale of JAMB Direct Entry 2019/2020 form will commence. But presumably, it will be earlier than it was in 2017 which began in July and ended in August. Although, I will give you an update immediately it comes out.
Therefore today, all the following FAQS on JAMB Direct entry 2019/2020 registration will be treated.
Will JAMB Direct entry 2019/2020 candidates write JAMB 2019?
What are the requirements for JAMB Direct Entry?
What are the eligible institutions for JAMB 2018.?
How do I create my JAMB profile?
When is Jamb Direct Entry Exam In 2019/2020?
What Is The Cost Of JAMB Direct entry 2019/2020 Form?
How do I apply for JAMB Direct Entry 2019/2020 ?
General advice on preparation for JAMB Direct Entry 2019/2020 examination.?
Without further Ado, lets head to answering this FAQS.
Will JAMB Direct Entry 2019/2020 Candidates Write JAMB 2019?
Well you and I know, JAMB cannot decide to shock every single direct entry candidates by telling them to write JAMB again. Despite anything is possible thou, I don't see this as a possibility. This further means that Institutions will be free to conduct Direct entry exams for their candidates.
What Are The Requirements For JAMB Direct Entry 2019/2020 ?
The requirements for JAMB Direct entry 2019/2020 are below;
A minimum of 5 credit passes in WASCE/GCE and its equivalent at no more than two sittings with at least two principal or advanced level CE.
2 passes at the IJMB Advanced Level examinations, Cambridge Moderated School Of Basic Studies Terminal examination, JUPEB from recognized institutions with SSCE/GCE, NTS/NBC credit equivalent in three other courses.
Passes in two major sources in the NCE with SSCE, NTS/NBC credit equivalent in 3 other subjects (mainly for Education Courses) and National Diploma. Education may be taken as a "Third A level" subject for those taking courses in Education.
Minimum of lower credit grade in National Diploma or National Innovation Diploma including the O' Level requirement.
For Direct entry Admission, candidates are required to provide their JAMB registration number which they used in gaining admission to NCE or Diploma.
What Are The Eligible Institutions For JAMB 2019/2020?
The eligible institutions or institution type that JAMB 2018 registration will be made available on include;
First Degree
National Diploma (ND)
Universities
National Innovation Diploma (NID)
Polytechnics
Colleges of Education
Monotechnics
Also, other Degree awarding Degree institutions.
How Do I Create My JAMB Profile
You and I have dealt with how to create a JAMB profile here. It will be a sin to go over it again.
When Is JAMB 2019/2020 Direct Entry Exam?
I said earlier that JAMB has given institutions freedom to conduct Direct Entry exams. Likewise for 2017 and 2018, the various institutions will release the dates and I will be here to update you.
What Is The Cost Of JAMB 2019/2020 Direct Entry Form?
The JAMB 2018/2019 Direct Entry Form will cost 5500 Naira. The 500 Naira on top is for the JAMB Novel titled "The Last Days At Forcados High School".
How Do I Apply For JAMB 2019/2020 Direct Entry Registration?
Patiently wait for the registration to open, then follow the guide below to register
Create Your JAMB Profile. That should no longer be a problem as I have shared how to do that above.
Approach any approved JAMB CBT centre or Bank to get the JAMB E-Pin. Your registration number, passwords/numbers of ATM cards, E-Pins and Email address must be kept confidential.
Registration can only be done at JAMB approved CBT centers.
Each candidate is to collect His/her E-Pin as evidence of registration.
Finally, lets head to JAMB 2019/2020 Direct Entry registration and exam tips
CBT centres are not collect more than 700 Naira as registration fee.
Categories: Jamb 2021 Syllabus | Past Questions
There is love in sharing
0 Responses